The rental market in the US is in flux. People paying 40% of their income to rent has reached the highest number ever - the recommended proportion is 25 to 30% of income to rent. It's understandable that a market correction is coming, and it appears to be here.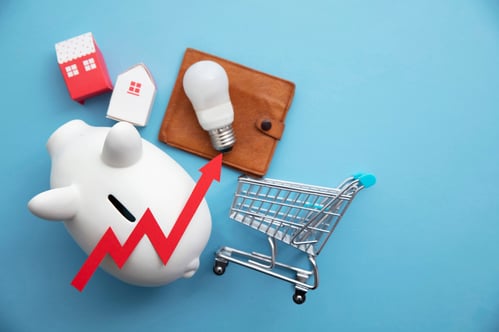 In the face of rising rental prices, more states are discussing rent control measures (including hot spots like Florida and Nevada). October saw the third largest drop in rental market prices since 2010. Housing providers and residents alike are being squeezed by inflation that, while slowing, is still much higher than we've seen in recent years, causing people to stretch every paycheck further.
On top of all of that, conservation concerns and supply/demand dynamics are driving ever-increasing utility costs. From 2010 to 2019, water prices went up by about 60% for a family of four. Electricity costs have spiked recently, partially due to the current crisis in Ukraine. With winter on the horizon, those costs are expected to increase. According to a recent piece on CBS News:
"About 20% of U.S. households have missed or made a late payment on their utility bill in the last month, according to a recent Bank of America report. Not surprisingly, families with an income of $50,000 or less are struggling the most to absorb higher energy costs. Geographically, residents of Dallas and Houston are seeing some of the highest utility bill hikes this summer — up 23% when compared to the same period last year.
Higher energy prices brought on by the Russia-Ukraine war are partly to blame for the late or missed payments, BofA said. Customer utility bills rose about 16% in August compared to the same month a year ago, according to the report.
The increases are expected to continue this winter as National Grid, Con Edison and other power companies have already signaled their plan to raise prices. The average household will pay about 17% more this winter to heat their property, a 10-year high of about $1,200 per home, the National Energy Assistance Directors Association estimated earlier this month. Electric bills are also set to rise, with the U.S. residential price of electricity expected to climb 14.8 cents, a 7.5% jump from 2021, according to the U.S. Energy Information Administration."
As a housing provider, you want to do the best you can for residents but have to focus on your own bottom line as well. If you've been paying for master billed utilities, even just water, it's in your best financial interest to try to recover some of those costs, especially if you can't raise rental prices to cover them in a softening market. You could switch to individual submeters for every unit you own, but that involves pricey equipment installation - and supply chain disruptions mean it may not be an immediate solution anyway.
But there is good news! Ratio Utility Billing Systems, also known as RUBS, give you the opportunity to fairly recover up to 90% of the costs for any master billed utilities you pay in your investment properties. That can include electricity, gas, water, wifi, high-speed internet access and cable. With RUBS, you simply provide all the information about your properties and any shared amenities - the algorithms do the rest. You can fairly and accurately share the costs among your residents, based only on what they use. Not only do you recover your costs, but knowing what they are using drives residents to conserve. That's better for their wallets - and yours - and the health of the planet!
If you're not ready for RUBS (or prevented from implementing it for some reason), a Sample Statement showing residents what they WOULD pay can also drive conservation behaviors, even if they aren't spending any money directly. A study by the EPA showed that the simple act of informing people of the costs of their habits will cause them to reduce consumption by up to 15%! Bonus: What's good for your wallet is good for the planet.
"RUBS is easy to implement. It takes very little time to get started, and our enrolled housing providers start seeing recovered costs in as little as 60 days. We don't require a minimum number of units to get started, so it's ideal for those with even just 1 unit to manage," says Daniel Sharabi, CEO of Livable. "Sharing accountability for consumption among housing providers and residents helps preserve our precious natural resources at the same time, reducing use of both water and energy."
"As the rental market continues to be in upheaval, it's in the interest of housing provider to work on recovering master billed utility costs now," Sharabi explains. "Not every market has been affected by a correction yet, but it will happen. The time to get ready is now, especially for independent rental owners with a smaller number of units who don't have the resources of a major corporation behind their investments."
Livable and the Independent Rental Owner
Check out how you can use Livable's tools to reduce how much energy and water your tenants use and recover up to 90% of your utility costs. Our Ratio Utility Billing System allows you to fairly bill your residents for their share of utility use, including Wi-Fi, water and electricity (no matter its source). Livable has no minimum number of units required to enroll and no minimum monthly billing requirements. We also help you educate residents so they are inspired to conserve resources.
We understand that Independent Rental Owners are one of the largest investor groups in the US – and one of the most underserved. We're here to change that. Come save with us!