2023 is here! Whether or not you set resolutions, it's natural to look for ways to improve your business at the beginning of a new year. This is a great time to think about building and bettering your properties for the sake of your business growth and development. The health of your business is everything. You can't serve tenants without a healthy bottom line.
Of course, your net operating income is important - it's the single best metric of the health of your business. But in 2023, we want to encourage property owners like you to lead with a broader landscape that also includes, but concern for the health of your tenants, your properties and our environment. Make this year a bolder and more holistic one with conservation as one of your guiding principles. Bonus: What's good for the planet is good for your wallet!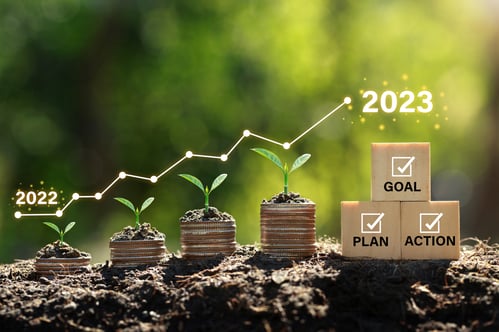 Learn the Benefits of Using Conservation as a Guiding Principle
Exercising good conservation practices makes sense for the earth and for living well, and it's in your financial interest. We know that conversation efforts, big and small, impact the environment and, therefore, are a service to the greater good and generations to come while honoring Mother Earth. On top of that, more renters, especially younger tenants, are looking for places to live that support their values. The environment is high on their list, so touting your property's green goodness can help you secure them as customers.
So going green will also make for happier renters and more money in your pocket. Your tenants will be happier to rent from a housing provider who cares for the environment and they will appreciate the attention, routine maintenance and focus on systems and appliances that a focus on conservation naturally addresses.
Low-flow showerheads, smaller volume toilets and Energy Star appliances are easy ways to get started and offer a lot of environmental bang for your buck. Improving energy and water efficiency in your buildings may require an initial investment in time and money, especially if you are just starting out with saving energy and water. But in the long run, conservation practices save time, money and headaches for both you and your renters in 2023!
Going Green Is Easier Than You May Think
If you are just beginning to get involved with conservation efforts, there are numerous ways you can begin. It can be a daunting task to undertake, but doesn't have to be. Livable provides resources to property owners like you to help you learn where to start at your properties to aid in saving you both resources and money in the long run. Check out state and local resources - you may be able to get grants or tax credits to help with the upgrades.
Check out these few simple ideas for getting started and implementing conservation efforts at your properties.
Perform a regular audit for any leaks in the sinks and water lines of your buildings.

Regularly inspect and replace toilet tank flaps to prevent annoying "running toilets."

Consider replacing lawns with a landscaped garden or a combination of garden types such as rock, produce or floral. They're ultimately less costly than maintaining a green lawn and can be a way to build community.

Replace your building's water tank and/or boiler with a newer, more efficient one.

Switch to LED light bulbs in your apartments and common areas.

Opt for energy-efficient models when it's time to replace kitchen appliances.

Be sure to properly weatherize your buildings to ensure cold air isn't leaking in and precious energy leaking out.




Provide conservation

resources

to your tenants (readily available at our website!). Simple awareness of their consumption habits can lead to a reduction in use. Ask us how to get started with those efforts!
Whether you want to level up your conservation efforts or are just getting started, there's no better time to improve than in 2023. Do your research and find the most practical options that fit your property and budget. Look for state, federal and local sources that can help you pay for these efforts with tax breaks and even grants. Depending on where you live, options abound to pay for LED lighting upgrades, energy efficient windows, boilers, solar panels and more.
Remember that every step counts! Even if you can swing huge updates at once, every repaired leak and replaced toilet flap is saving precious water - especially in drought-stricken areas - and reducing your utility bill at the same time.
Livable and the Independent Rental Owner
Don't forget to check out Livable's tools to reduce how much energy and water your tenants use and recover up to 90% of your utility costs. Our Ratio Utility Billing System allows you to fairly bill your residents for their share of utility use, including Wi-Fi, water and electricity (no matter its source). We also help you educate residents so they are inspired to conserve resources.
We understand that Independent Rental Owners are one of the largest investor groups in the US – and one of the most underserved. We're here to change that. Come save with us!